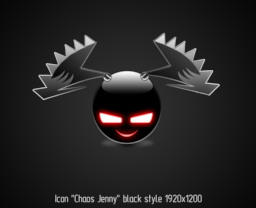 One thousand years ago, a girl named Violet (renamed Chaos Jenny), was killed...
Wait, I'm not done!
She lost her friends, and decided to honor their memory by completing a promise to go to Comic-Con as Chaos Jenny. But as she was going, a mushroom cloud forced her to make a deal, and now lives in Equestia.
She was later killed by Celestia and Luna, but A.I.'s never truly die.
Present day, the CMC stumble in on a secret base of a long forgotten foe. What will happen to Equestria when this metal demon repairs herself? Will they be ok? And will the Elements be able to stop her?
All this demon has is a living toy named Robotboy.
Cole Light was a star student. His world was destroyed, and was taken to present day Equestria as the person he dressed as.
Evil Cole from inFAMOUS 2.
Will the Lightning Demon named Cole help Chaos? Or will he fight her.
WHAT SIDE ARE EITHER ON ANYWAY!?!?!?!? GOOD OR BAD!?
Chapters (3)