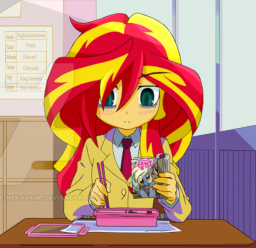 Sunset Shimmer, the most antisocial student at Canterlot High School. No one would guess that she's actually the mysterious vigilante, Blacksun. But what happens when someone enters her life and flips her world upside down by asking to be her friend.
Will Sunset, A.K.A. Blacksun, be able to save who she needs to save with this wants-to-be-friend wasting her precious time? Or will Sunset learn that she's the one who needs saving?
Throughout their journeys, Sunset will fight threats both in school and out of school. And along the way, maybe the two will find that they like each other more than friends? Or Sunset's become delusional.
Chapters (6)