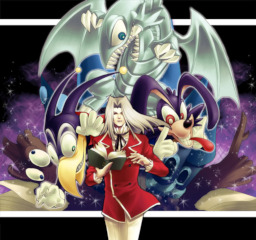 Celestia is a fool. She truly believes that peace and harmony could be obtain if we all settle our differences and became friends, she believes that if all of the nations in the world unite to create a 'alliance', that it will improve their people's ideas that we can all be friends. She's a hypocrite, she claims that her ponies are all about 'peace', 'love', and 'tolerance', little does she know that only extends to ponies, to us non ponies we get beaten, feared, hated, and shun.
True peace can only be achieved through power, true harmony can only be achieved if all are united under one single banner. The Illusion Kingdom, my kingdom, will grantee anyone true equality, true love and tolerance, no one will be ridicule simply for not being a pony! The Minotaur's were the only ones to accept and practice my philosophy, and as a result I had been their tactician during their war against the ponies. But soon all will be united under one rule...under one banner.... the fool will soon learn the true meaning of peace and harmony...
"Welcome all my honored guests
To the ultimate duel of the best of the best
At my invitation you come to compete
For the honor of suffering the final defeat~"
---
A Yugioh Displaced fic.
If you don't like Displaced fics then don't read.
Chapters (6)