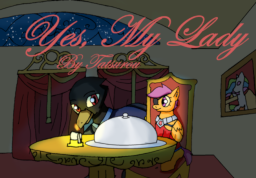 Source
Scootaloo's life has always been shrouded in mystery. She lives in her house in Ponyville alone. She often disappears with no explanation. And no one's ever seen her parents.
She keeps it that way deliberately. She likes her normal life in Ponyville, and has held on to it as much as she can.
However, a personal tragedy brings family responsibility down on her shoulders, and her life is about to spiral out of control.
Thankfully, she has quite a bit of help keeping both her lives stable - and separate - as much as possible...
...a dragon chef who can't make a salad without making it flambe...
...a cripplingly far-sighted ex-assassin hippogryph maid...
...a slim built minotaur gardener who is as innocent as he is unexpectedly strong...
...a mechanical golem head servant whose brain runs - badly - on hot tea...
...and one devil of a butler.
Edit: New Cover Art by ProfessorCatPro
Edit 2: New fan art by slyfoxcub.
Chapters (43)