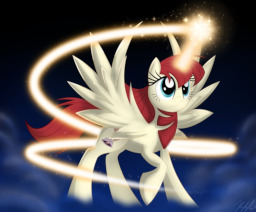 Celestia, Luna and Discord. Three ancient beings in equestrian history. However why is Celestia and Luna princesses and not Queens? Also why did Discord conquer Equestria?
The answer to these questions have the same answer. One Mare, one Alicorn, their Mother Lauren Faust.
I really shouldn't have picked up that medal
Special Thanks to The Fan Without a Face for helping me with this.
A Special Displaced Tale
Now uncancelled.
Chapters (4)