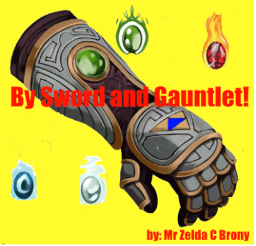 Source
So, I cosplay at a con, and I buy some souvenirs. All pretty normal right? Not! Instead of having an awesome time I end up in Equestria with no idea what i'm doing. Makes me really want to go and demand a refund, too bad the world doesn't work like that!
So! Join me as I deal with being a displaced, defeating evil, playing pranks, and failing at life! Who knew that getting cool powers could come with so many problems.. should have been Spiderman then I could use his line without sounding cliche.
~So my second story EVER, this is of course a Displaced Story. Also the cover image is the gauntlet... if anyone reading this has artistic talent a better pic would be incredibly welcome. Current cover art is done by zeldawolffang but if I get others I may rotate them or put them to a vote to determine the best one for the story! So don't be afraid to send me any that you make!~
~Special Thanks to StarChaser01 He has been a MAJOR help with this story so if you like it pop on over and give him a THANK YOU!~
~Also a major thanks to all who commented on my thread seeking help on the Displaced group!~
P.S Hey Archive! Does this look any better?
Chapters (3)