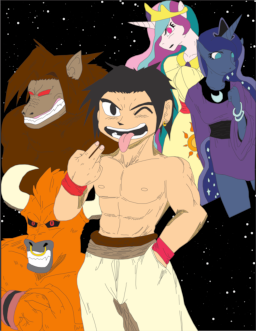 "Call it Raging Star for all I care, just get it out of my sight."
The exact words of Princess Celestia after having defeated the Oozaru form of a baby Saiyan. With nopony in Equestria willing to house this beast and Princess Luna's hopeful expectations for its well being, the baby Saiyan is sent to be a labor slave in the distant Minotaur lands. It is there that Luna hopes to quell his inate bloodlust and perhaps eventually befriend this strange creature. What will it take for a power-driven Saiyan to live peacefully in a world he was destined to destroy? More than anypony would ever hope to think.
Cover art drawn by Me
Vectored by the awesome Roarin Thunder!
Chapters (10)