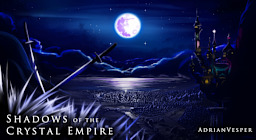 Source
This story is a sequel to The Sword Coast
---
The shadows of the past plague the present.
Twilight Sparkle stands on a precipice, one false step from a dark destiny. Months ago, she set out to find her foster father's murderer. After she defeated the Black Knight, she was hailed as a hero, but what she remembers most is the lives she took. On the path of strife, she discovered more about herself than she ever expected.
With her friends by her side, Twilight sets out for Canterlot, seeking the villain responsible for the death of her father and the crises that plagued the Sword Coast. On the way, a sadistic spellcaster interested only in power intercepts her and promises to unlock her potential. In the aftermath, Pinkie Pie is taken captive by the secretive wizarding order that rules Canterlot.
Twilight's journey takes her through the doors of a prison and into the depths of a forgotten place. She encounters horrors made from nightmares and soul-stealing beasts raised from the black of the Abyss, but what she fears most is the monster within. How far will she go to save her closest friend?
Featured on Equestria Daily
Cover by Bluest Ayemel
"I love this fic. Keep it up!" – Sethisto (on the EQD page)
Side stories: Tales of the Sword Coast
Warning: Comments contain spoilers. Proceed at your own risk.
Chapters (15)