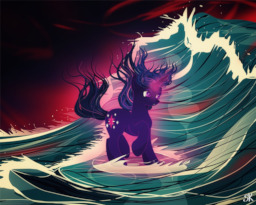 An idle inquiry into Celestia's past sparks a dangerous journey in search of an ancient evil. Twilight and her friends confront changelings, saboteurs and worse in their search for the creature that devoured the alicorn nation. But when Twilight's decisions endanger those she loves the most, she encounters an enemy she has no defense against; her own despair.
Dedicated with love to my amazing girlfriend Kristin, who doesn't get the 'pony thing' but still buys me the occasional plush. And to my old friend Martin (AKA Ash), who is one of the nicest, funniest (and cuddliest!) guys I've ever met, as well as being the inspiration for Pin Feather.
Cover art made by the talented dSana senpai.
Chapters (43)