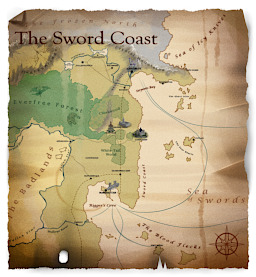 Source
A collection of side stories accompanying my story, The Sword Coast. These tales will be confusing if you are not familiar with the core story.
The Jester and the Thief: Rarity and Pinkie Pie must rescue their friends from the clutches of Manehattan's mercenary law enforcement, the Flaming Wing. On the way, Rarity finds herself closer to her past than she would like. Occurs during the chapter "Flaming Wing" from the core story.
The Black Knight: The Second Child struggles to get by on the streets of Manehattan. He lives with a shadow on his mind and survives by killing. Occurs prior to the beginning of the core story. (WARNING: Spoilers. Intended to be read only after completing The Sword Coast)
More characters and synopsis to be added as chapters are posted.
The Sword Coast is featured on Equestria Daily. It is a grand adventure story inspired by Baldur's Gate and the Forgotten Realms. The first book is complete.
Map by: Bluest Ayemel
Chapters (3)