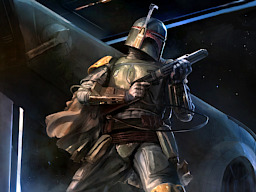 Source
Boba Fett. Notoriously known as the greatest bounty hunter in the galaxy. From the Outer Rim to the Core Worlds, his exploits are the stuff of legend.
His latest hunt --for which the reward offers enough credits to purchase a small star system-- takes him to the farthest reaches of explored space, to a distant and unknown planet, where he is to kidnap a notable figure of great power and return to his employer with all due haste.
The target?
Princess Celestia of Equestria.
---
The 'Human' tag is not present on this story because it involves immersion into a universe that contains a great deal more species than them. Expect far more than mere humans to make an appearance.
Chapters (9)