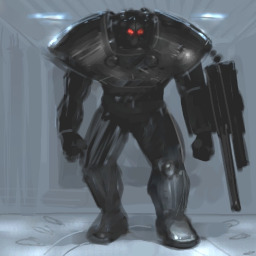 Frank Horrigan is the Enclave's finest instrument of warfare and the best soldier they've ever had. Known to all as a "genetically engineered cyborg psycho total homicidal maniac", and a kind of "ultra super mutant in power armor". Having been witnessed laughing off plasma rifle fire, and punching deathclaws and armored humans in half, he is one of the deadliest entities to have walked the Wasteland.
Killed by the Chosen One, the Enclave Oil Rig sinks to the bottom of the ocean in a nuclear explosion. But this isn't the end of Frank's adventures. Out of all the odds, he ends up in Equestria of all places. One of the most despicable monsters of the Wasteland in a magical land full of friendship and sunshines. Yeah, this will end well.
At the end of each chapter, Frank will make a Karma Decision. You vote for either the Good, Neutral or Bad decision in the comments for what he does the next chapter. Vote wisely!
Thanks to my super awesome proof readers ArmedBrony, Eldorado and Shadowflash, all kickass dudes that can comprehend my writing! A rare skill indeed.
Chapters (6)