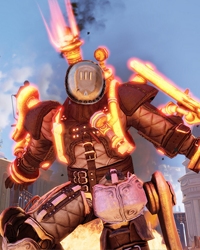 Source
Thomas Miller proudly wore the armor of the feared Firemen of Columbia. Battle hardened and devoutly loyal; nothing could prevent one of Comstock's most elite soldiers from completing his mission. Even if that mission was to apprehend the Prophet's daughter, Elizabeth. He had a goal that no force on heaven or earth could stop him from achieving.....except perhaps Elizabeth herself.....
What happens when a pyromaniac finds himself dropped in the middle of Equestria?
Bioshock: Infinite/MLP crossover.
Chapters (12)