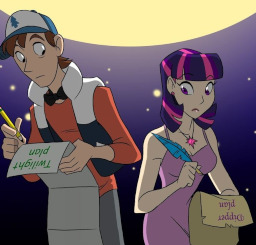 Main Theme
After his sister sacrifices herself to save his life from Bill Cipher, 17-year old Dipper Pines finds himself in an alternate dimension known as Equestria, where technology and magic co-exist in harmony, and the people in this world are as assorted as a bag full of Summerween candy. Some of them could manipulate magic and cast powerful spells, some had wings that, of course, allowed them to fly, and others still were seemingly normal, but had great strength.
Moving in with teenage sorceress Twilight Sparkle, on whom he develops a crush on, Dipper soon discovers that he himself has the ability to control magic and cast powerful spells. But, little does he know that his old enemy Bill Cipher is planning to catch up with him very soon, and lay waste to the world he now calls home. Can Dipper and his new friends stop Bill, and will Dipper and Twilight live happily ever after? Only time will tell!
Set in an AU of both Gravity Falls and MLP. Contains Dipper X Twilight Sparkle, Rarity X OC, Applejack X OC, Rainbow Dash X OC, Pinkie Pie X OC, Fluttershy X OC, Spike X Sweetie Belle, Implied Stanford Pines X Princess Celestia, One sided Ma-Gid-Bel-eon, eventual Gideon X Trixie, and ?X? All ponies (and technically dragons) have been humanized to a certain extent.
Chapters (9)