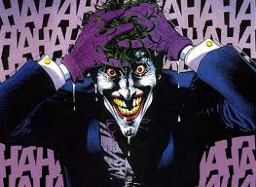 That's right, the Joker, otherwise known as the Clown Prince of Crime, the Harlequin of Hate, and the White Duke of Death, is now in Equestria. Will this unpredictable, murderous psychopath learn the true magic of friendship and abandon his old malicious ways? Or will his arrival kick off an unstoppable crime spree to shape Equestria into his own image? Like I said, the Joker is unpredictable.
Special thanks to my awesome prereaders X19, LDSocrates and The Alpha, who are the best of the best! Read their stuff or just thank them for reading my unedited monstrosity before I release it to you guys!
Now on TV Tropes because of the greatness that is Shadow Sora94. Give him some thanks!
Chapters (14)