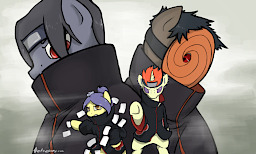 Source
The criminal organization known as akatsuki have completed their long acomplished goal of capturing the nine tailed beasts, already sealing the first seven. When attemping to seal the final two, however, something goes wrong, and the group is sent off their planet.
Waking up, they discover they have been transformed into colorful horses, yet they still posess there ninja abilities. Now travelling through the land, they begin a quest to find a way to return to their world. They are determined to get back, no matter who or what stands in their way.
This story depicts an alternate universe where the members of the akatsuki were not killed. Continuity and other factors from the origional timeline will be altered
For entertainment purposes.
Special thanks to Thardoc for editing for me
Chapters (27)