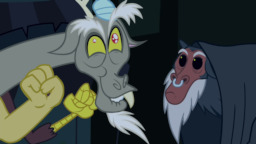 Source
Back in Tartarus after his latest defeat, Tirek is cursed to spend countless years within the worst prison imaginable. Luckily for him, Discord is here to change that. With the magic of friendship and board games, Discord becomes Tirek's new roommate, and thus his newest thorn in the side as well in a bid to reform him.
Now Tirek's imagination is stretched to its limit with just how horrible Tartarus can really become.
Thanks to the great bearded one known as Obselescence for all his help editing!
Chapters (1)