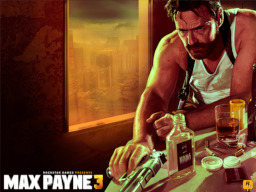 Failure was the word Max Payne thought a lot about after the day's previous events. His employer found dead, his office destroyed, his employer's wife still held hostage, and his friends abandoning him. Trying to cope with this newest revelation, Max drinks far more than usual and somehow winds up in the colorful world of Equestria, filled with intelligent talking ponies.
But as his time in this magical land reveals, there's something dark in the shadows of this happy and peaceful place. A darkness that came from Max's world…darkness that only Max can get rid of. That is, if he's sober long enough to understand it and not put a bullet in his skull.
Takes place during events of Max Payne 3
Teen rating for strong language, alcohol use, pill use, and many other things linked to Max Payne...
Chapters (7)