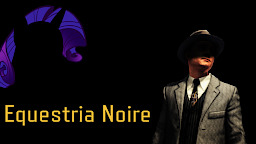 Egg-cracking and witty LA Detective Cole Phelps has solved many seemingly impossible cases. He put the right men and women behind bars, killed criminals before they could commit their next crime, and gave hope to the LA Police Department. The question is, where did that flood of water lead him? Did it actually kill him? During his funeral, his casket was closed. Secretly, the police didn't want the public to know that his body was never found. Considering this, and his personality, how will the observant detective fare in a world devoid of crime and murder? More pressingly, how will he fare in the land of ponies?
A LA Noire Crossover.
Thank you, HenryAnthonyCourtler, for the new cover image! His new one seems more fitting with Cole Phelps' bond with Rarity.
Chapters (11)