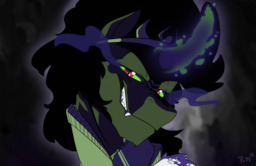 Source
A short trip around the block ended up turning quite a bit different. The Doctor and his three friends find themselves on the threshold of the Crystal Empire, 1000 years ago when still ruled by the evil King Sombra. The Doctor strangely enough does not want to stay and investigate why they are there but before they can escape they are captured and imprisoned by the evil king.
The Doctor's friends, Private Iceland, Dew Doe and Foxy Stripes are separated from him and must face the fearsome tyrant alone, wondering how the Doctor knows him and this land that from their perspective doesn't even exist in their memory. A difficult journey is ahead for all four as they must escape the tyrant and his web of fear and hate.
---
This story is part of The Equestria Tales series, although set in an alternate universe.
From the perspective of some of the characters, only season 1 and parts of season 2 have happened. The crossover tag is on due to the use of elements from Doctor Who.
Cover by Silhouette
Parts of the story edited by Hail King Sombra.
Chapters (17)