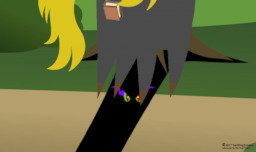 This story is a sequel to Breakfast Rewards
---
Private Iceland is going back to work after a long stay in the Crystal Empire hospital. He's more than eager to, wanting to forget his dreadful experience that landed him there.
However, it turns out that his enemy had put a hidden spell on him. The spell backfires and brings Private right to King Sombra's hiding place.
King Sombra is just as surprised as Private, but not as startled.
---
This story is part of The Equestria Tales series
Side-story in "Return of The Dark Ponies" story arc.
Story edited by Hail King Sombra.
Cover image by Hail King Sombra.
Chapters (1)