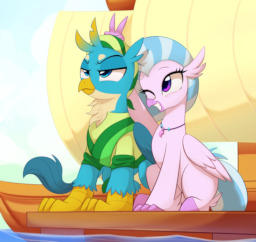 Source
Gallus doesn't want to go home for summer. With a little gentle persuasion, he gets his friends on board to keep him out of Griffonstone, though none of them are quite sure how to do it; that is, until Silverstream hatches a scheme.
All he has to do is join the Hippogriff Navy. It's not the relaxing summer away from school that he hoped for, but hey, it promises to be interesting! Who knows what three months as a sailor could bring?
Adventure? Certainly.
Self-discovery? For sure.
A sea battle with a band of renegade pirates? Anything's possible.
Romance?
Pssh. Yeah, right.
---
Edited by a crew of scallywags who mean the world to me. In no particular order: MissyTheAngle, Freglz, Muggonny, Semillon, FamousLastWords
Special thanks to Pascoite for his assistance.
Cover art commissioned from the incomparable Marenlicious!
Curious about how the next chapter is coming along? Check my user page for regularly updated progress reports!
Chapters (15)