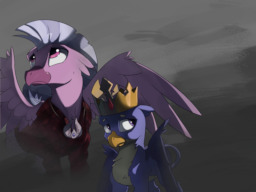 Source
Since Gallus moved back to Griffonstone after ending his career with the Royal Guard, he's paved a decent life for himself. He's been charged with spreading the message and lessons of friendship throughout the village, which usually amounts to beating the other griffons over the head with common sense. 
But one day, he snaps out of a haze. He realizes that griffons don't have as many problems with each other anymore, infrastructure is being built at an impossibly fast rate, and industry is flourishing on all sides.
And as good as that sounds, there's something malicious lurking behind this new age of prosperity.
Something bad is happening, and whatever it is, it's affecting everyone else too. As Griffonstone grows, the other nations on the continent are getting worse, and it's all connected.
Gallus, along with the rest of his old friends, are the only ones who can stop it, and considering that the last time they were all in the same place was three years ago, and it resulted in a bar fight and a lot of tears, none of them are in for a good time.
---
This story assumes that the epilogue at the end of the series takes place 10 years into the future.
Many of my chapters are edited by the wonderful Miller Minus and Jack of a Few Trades . I'm very grateful for them and I wouldn't be the same without them.
Chapters (17)