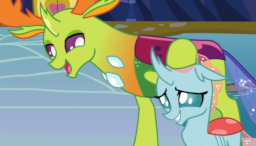 Thorax has had months. Months, of working tirelessly as the Ruler of the Changeling Hive and he is absolutely exhausted. He can barely stay awake when he comes to visit Ocellus at the School of Friendship to see how she's doing.
Ocellus, being the smart cookie that she is, comes up with a plan: She can pretend to be him, and he can go relax for a day.
Desperate, he accepts, but on the condition that he goes to class disguised as her and takes notes so she doesn't fall behind. After that, he can sneak off and finally get to sleep.
But then Smolder and Ember get involved.
---
Chapters (1)