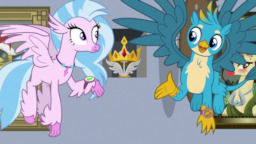 Source
(Takes place after "What Lies Beneath". Proofread by Smity91 on Fanfiction.net)
Ever since confiding in each other about their greatest fears, things haven't been the same for Gallus and Silverstream.
Gallus in particular finds that he can't get the hippogriff/seapony out of his thoughts no matter what he does. But he's never been in love before, and he certainly doesn't have any examples to build off of.
Silverstream, meanwhile, is being plagued by reoccurring nightmares about the Storm King. Luckily, Gallus is there to help her through them. But can he use this opportunity to tell her how he feels? Or does Silverstream have her own ideas in mind?
More importantly, what do their friends have to think of this sudden development?
Chapters (1)