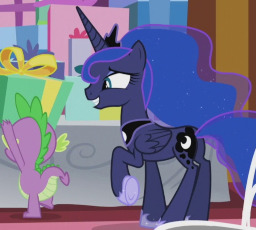 Source
(Takes place immediately after "Luna Eclipsed", colab with yodajax10.) Another Nightmare Night has come and gone, and now Ponyville begins the process of cleaning up after it.
Spike offers to help out, but Twilight reassures him that they can handle things on their own. So, reluctantly, the baby dragon decides to spend a little time with Princess Luna, who has just come out of her shell.
But what can the two talk about? Quite a lot, actually. And both will come to realize, they have something in common.
(Featured on 9/09/2016)
Chapters (1)