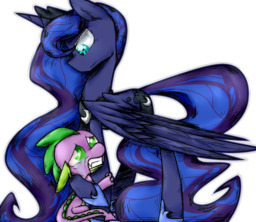 This story is a sequel to The Princess And The Dragon
---
It has been a week since The Storm King's defeat, but Spike has been acting very quiet and won't open up to Twilight or Starlight. But Twilight calls upon Princess Luna, who also happens to be Spike's dragon sitter to find out what's going on.
This has no connection to a previous story I co-wrote with SuperPinkBrony12 Closure (Which I do love), but I wanted to see what things would be like if it were in my head canon of another story we both wrote, The Princess And The Dragon , where Luna becomes Spike's dragon sitter.
SuperPinkBrony12 also served as an editor and proofreader here! Check out his stuff!
Chapters (1)