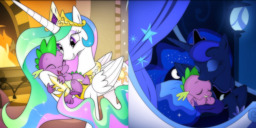 My own personal rewrite of the episode A Royal Problem. With Spike in Starlight Glimmer's place.
When Spike is called in for Royal Business to spend time with Princess Celestia and Princess Luna, the two princesses have been getting rather angry at each other, both claiming the other doesn't know how the other feels when doing their job. So, the Princesses decide to switch places and see who has the better life, but what affect would this have on Spike?
A couple typos and things were fixed/edited.
This takes place shortly after Season 4.
Cover art by dSana!
Special thanks to SuperPinkBrony12 for helping me out here!
Chapters (1)