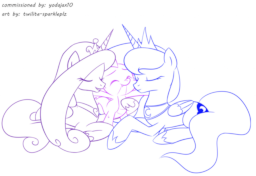 (Collab with yodajax10 who suggested the idea. Cover art comissioned by yodajax10 and used with permission. Takes place after "Inspiration Manifestation".)
After Princess Luna and Princess Cadence help Twilight clean up Ponyville from excessive dark magic, the both of them start to consider just how much Spike means to them.
When both princesses come to see themselves as aunts for Spike, they find themselves competing against each other for the little dragon's favor. To that end, they both plan a party for Spike and that includes getting Pinkie Pie involved.
Meanwhile, Spike has no clue what the princesses are getting up to, or why Pinkie Pie seems to be acting even crazier than usual. Will the stress of planing competing parties be too much for Pinkie and cause her to spill the beans? Or will Luna and Cadence be able to put aside their differences before then?
Chapters (1)