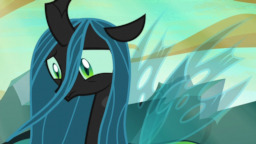 Source
(Story idea requested by Nimbus Bolt. Takes place in an alternative universe after the events of "A Canterlot Wedding".)
When the love wave from Princess Cadence and Shining Armor expels all the changelings from Canterlot, it has an unintentional side effect. One that no one could've seen coming.
Just before impact, Chrysalis hits herself on the head and the injury is sufficient enough to trigger a mental regression in her. To the surprise of her subjects she no longer refers to herself as queen, and acts more like a hatchling named "Chrysy".
Unfortunately for "Chrysy", her and her fellow changelings are stranded in Equestria with no way to get back to the hive. Forced to lay low, her subjects must also tend to their regressed queen and keep her safe. And all the while they search desperately for a way to get her back to her old self.
But how does one undo a mental regression? And more importantly, what if "Chrysy" doesn't want to change?
Chapters (1)