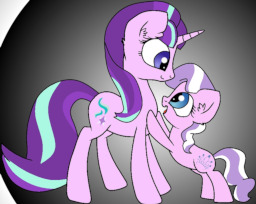 Source
(Takes place immediately after the events of "The Cutie Re-Mark". Proofread by Smitty91.)
Starlight Glimmer should be happy. She has been forgiven for her past misdeeds, and has a promising future as a student to the Princess of Friendship.
But, she's not.
Despite her efforts to hide it, Starlight feels that she has been forgiven too easily. She shouldn't be forgiven at all.
While reflecting on these feelings, and deciding whether or not to tell somepony about them, Starlight recieves a visit from a filly that once trotted a similar path. And this visit, will teach Starlight a powerful lesson about forgiveness, and atonement.
Chapters (1)