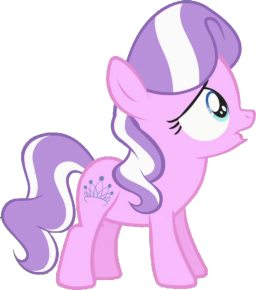 Source
Diamond Tiara has had it up to here with her mother, and her father's apparent refusal to do anything about her behavior! Unwilling and unable to put up with such nastiness any longer, Diamond does the unthinkable and runs away from home, leaving her trusty tiara behind in the process!
The filly moves into Carousel Boutique with Rarity, despite the surprise and protests of not only Rarity herself, but also Sweetie Belle. However, it seems nothing can change Diamond's mind. Reluctantly, Rarity agrees to let the troubled filly stay, for a while.
But when Diamond is kidnapped by the diamond dogs while on a gem hunt with Sweetie Belle, she will be surprised by the pony who comes to her rescue.
(Takes place after "Applejack's 'Day' Off" but before "Spice Up Your Life". Proofread by Smity1038 on Deviant Art, and proofread and edited by deadpansnarker on FimFiction.)
Chapters (1)