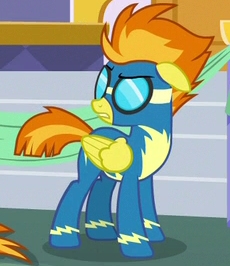 Source
(Takes place directly after the events of "Parental Glideance". Proofread by Smity1038 on Deviantart.)
Bow Hot Hoof and Windy Whistles may have finally patched things up with their daughter, but Rainbow Dash isn't the only Wonderbolt who has some grievances to address with them.
Spitfire, the young Wonderbolts captain, decides she needs to address a few concerns she has with Dash's parents and their excessive fanpoyism. Both at shows and at events.
But Bow and Windy will be quite surprised not just at Spitfire's words, but at her own experiences. After all, this isn't the first time the Wonderbolts have dealt with a family problem.
Now has a reading on YouTube by Midnight29, which can be seen here.
Chapters (1)