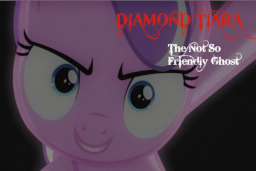 The Cutie Mark Crusaders have always wondered why no one ever seems to do anything about Diamond Tiara's behavior. It's as if she's invisible or something.
But the CMC are about to learn that the real reason is something they could never have imagined. Diamond Tiara has been dead for a while. But that can only mean one thing, Diamond Tiara is a ghost.
Now the three blank flanks must find out why Diamond Tiara is haunting Ponyville and why she has not left the land of the living. And they'd better be fast, if they can't find a reason soon Diamond Tiara will remain a ghost forever!
Cover image courtesy of ShootingRainbowStar13.
(Tagged Alternative Universe because obviously Diamond Tiara will still be alive and kicking in Season 4.)
Chapters (5)