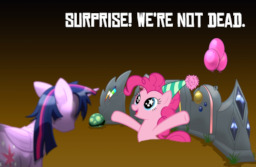 Source
Twilight decided to read a book. She reads many books, but this one was special. It was a special book that she read. And what it tells her is quite a surprise to exactly no one but her. It's up to Spike, Thorax, and Pinkie to help her through these difficult times.
Of course, if she was better at listening, none of this would have ever happened and I could have saved about 2,000 words.
---
I honestly hate the kind of stories where all of Twilight's friends die.
Proofread by:
ShadoWind and SandwichHunter0 A.K.A theassassin.
A submission for the late F*** This Prompt #13.
Chapters (1)