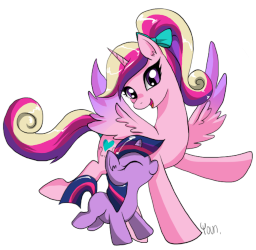 Cover art from HERE
Idea given to me by Night--Mist
Twilight Velvet and Night Light leave on a week-long vacation, arranging for Princess Cadance to foalsit filly Twilight. Things start out alright at first, but when Twilight asks about an odd spell she found outside a bookstore that had been shutdown, Cadance tries to stop her.
In trying to get the book away from the young filly, however, their magics collide and Twilight vanishes... but Cadance's belly has suddenly bloated out.
Cadance now has to face an unexpected turn in her life, one Celestia was NOT expecting either.
sex tag for sexual references. might change it down to everyone later depending on how people feel.
Wait, seriously? Featured already 9-11/10/2020?
I mean, I'm not complaining but... I did NOT see that coming.
Chapters (2)