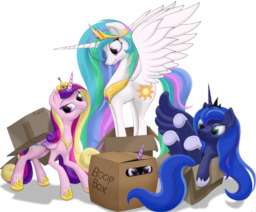 Cats are the most adorable creatures to watch when they play. My cats are the best. Puddie, Katydid, Luau, and Tifa... I love them all. No, I am not a crazy cat lady. You are the crazy cat lady!
So I was asked to sort a few things for my nephews, including some boxes with questionable labels. Thinking nothing of it, I slid some of the empty ones into the living room. Tifa crawled into one of the boxes, and it quickly escalated from there.
Sorry, let me start from the beginning.
---
Perhaps I'm not taking a very serious approach because I actually prefer dogs more often than not. But I digress. Cover image put together by Awalex.
Chapters (1)