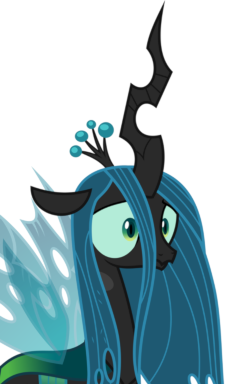 "I've seen enough isekai to know where this is going."
Okay, sure. It's another 'human gets thrown into Equestria as an existing character' story. Still, that doesn't mean 'Chrysalis' has any idea what to do. She doesn't remember everything from her past life, but she is pretty sure she was once a human from Earth.
She wakes up to see Starlight Glimmer, the one who lead the small team to destroy her throne, holding out a hoof. The unicorn is offering a chance for Chrysalis to lead the changelings properly. Logically, she should take that offer. The future of not accepting friendship yields an end written in stone.
But there's always a choice.
---
The idea of what would happen if Chrysalis hadn't been so gung-ho on revenge at the end of the Season 6 finale wouldn't leave me alone. In real life, I don't deal in what-ifs. In fiction, I'm a bit more open to the prospect.
Quick warning: There is an attempt at suicide and bodily harm in the first chapter. Just thought I'd point that out so you'd be prepared.
Chapters (3)