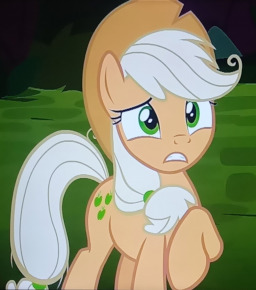 Jacob was having a regular day, he was excited about the day though since there was a new episode of Mlp about to come on, but before he could sit down there was a knock on the door.
When he answered it he found a woman with red hair standing there, she asked if he was a fan of mlp, he was weirded out about the sudden question and denied, he also found it embarrassing to tell anyone that he liked the show due to the fear of being ridiculed.
The woman smiled and told him to have fun with the rest of his day before she left, still weirded out he closed the door and went back to watch the new episode, he unpaused the TV and the episode began playing, that was when he blacked out.
When he woke up he realized he wasn't in his house anymore, nor his body, now he has to deal with no one believing a word he says.
---
I wanted to do a story relating to the newest episode of Mlp: The Mean Six
---
First chap now edited by: https://www.fimfiction.net/user/272063/Organical
Chapters (5)