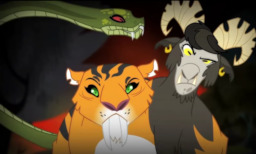 Joshua's day gets turned upside down on what should be a regular day, one moment he was walking through his town on a stormy day, and the next he's waking up in a strange world full of friendship and colorful magic talking ponies.
Things only get worse from there when he finds he's not even in his own body anymore, instead he finds himself in the body of a female chimera, and two people who he knows far to well sharing his new body.
This day was was giving him a really bad migraine.
Chapters (2)