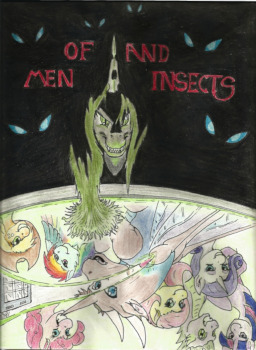 Source
When Chrysalis discovers a portal in the badlands, the fallen Queen flees through it to escape King Thorax and his new subjects. Plotting her revenge, she takes the place of a young man, only for him to fall through the portal and into Equestria.
The young man is Allan Ryder, a Twenty-Three year old from Vancouver, who is transformed into a Changeling by the magic of the portal. From there, it's a race against time to prepare for a battle that only one side can win. Allan will need all the help and training he can get from his new friends, and perhaps a bit of love as well.
This is the story Of Men and Insects.
************
This is my first story about ponies, though I do have another I am also working on at the same time. This fic contains shipping of a cannon character with an OC.
This takes place right after season six, and as such, will not be effected by future episodes of the show (Unless I want to write about them :3). It also assumed that the Equestria Girls movies, and the comics are canon, featuring references, and maybe even appearances, of characters from those worlds.
Allan Ryder is a character created for this story, as are all of his family and friends, and any additional human characters from his world. In other words, they're mine.
All other characters and places set in either Friendship is Magic or Equestria Girls belong to our lords and masters at Hasbro inc.
Rated teen for swearing and mature language. Added the 'sex', 'violence, 'gore' and 'profanity' tags due to violence, mild bloodshed, barely concealed innuendos, and mature language.
Chapters (40)