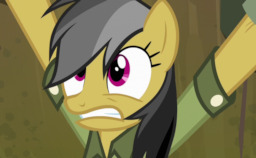 Hey, I didn't ask for any of this!
I didn't plan for any of this to happen. I didn't die or anything to get to this land filled with talking techni-coloured ponies called Equestria. I have no idea why I'm here, or how I got here. I don't even know where here is!
I just popped into Daring Do's body and now I'm hearing nothing but her yelling at me and blaming me for everything. Let me just set that straight, because you don't know what I know.
I Pinkie Promise by all that is holy, this was all Daring Do's fault!
Chapters (3)