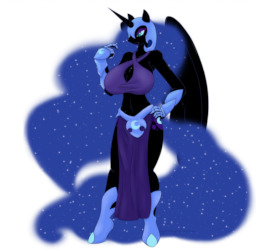 Source
...
Well, I could place here a normal story description. But if I had to guess, we'd say you already know what we mean if here simply stands 'HIE as Nightmare Moon'.
...
What? Too meta? The only meta thing you can't write here is about the real world.
...
Original (HTML & epub).
Tags: < MLP:FIM | Sex | Anthro | Human | OC | Nightmare Moon >
(Sex only implied, and NOT a main aspect in the story.)
Chapters (9)