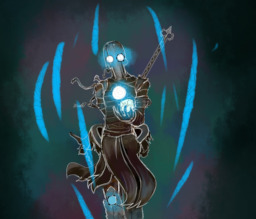 Source
I believe introductions are in order:
I am or rather was Leon Ghost, a great engineer and family man with my loving wife Jasmine and my three kids, two sons and a daughter, but I'll give more detail on them in another time. I somehow ended up in another world, likely another universe entirely after buying an Eliacube replica from a strange looking merchant at comic con. I have become the character I was dress as which was Nox from Wakfu, but these days I am known as Nox(imilien) Chronos. I have been trapped in a time stasis for exactly 1126 years, 7 months, 2 weeks, 1 day, etc....being a wielder of time gives you a ridiculous ability to near perfectly keep track of any time. I was trapped because of these xenophobic ponies and their idiotic, hothead, paranoid, xenophobic rulers.
These ponies are also foolish, they believe me to be frozen forever and set me up like a trophy in a garden. How I was trapped is a story to be told at a later time. Soon I will be released and I will find my family, and I swear on the name of Xelor that I WILL be free and NO ONE will stop me this time. I went easy on them the first time trying to be the good guy or neutral guy by taking only enough wakfu so they wouldn't suffer any ill side effects.....I am a patience and fair man and they are really pushing my merciful limit.
Credit to Qweeli for the over art
Chapters (4)