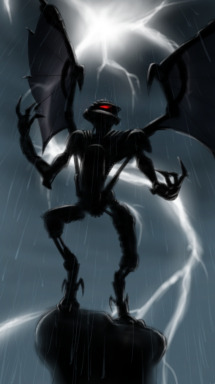 Source
The life of a villain can have its highs and lows. You have to build it up, mold yourself based on what you want to be. The bar for being the villain isn't that high. Hell, all you have to do is preform some evil deed.
An evil overlord on the other hand, that takes things like planning and common sense. You can't just expect to get what you want by throwing magic bombs or having some dastardly plot that has so many holes in it that it will inevitably fail when some heroic group decides to put you under.
It's even harder when you have magic powered deities who will stand in your way, like what I have right now. So no, it's not easy. Sorry buddy, domination of anything takes time.
Back to me though.
The multiverse is filled with countless possibilities. I am now a member of this mess of worlds and universes. Now in a land unknown to those who haven't watch a kid's show, within a body foreign to me, I must face those who are considered gods.
My old identity matters little and I only have one purpose now. And unlike those colleagues of mine, very kind of me to consider my fellow villains colleagues, I have a plan to outdo those who would stand in my way.
So join me on my little quest and watch as an evil overlord builds his way to the top. After all, we all know you came to see the villain, not some ridiculous heroic youth embarking to face the forces of evil.
I am Makuta Teridax, Master of Shadows.
Let's face it, everyone's rooting for the villain............
---
---
I just want to thank all of you who have supported my story A New Wheel. I also want to thank Ssendam the Masked, the one who inspired me to start writing displaced fics with his own Teridax.
[This is a Displaced Fic]
[Will have foul language and violence]
Chapters (10)