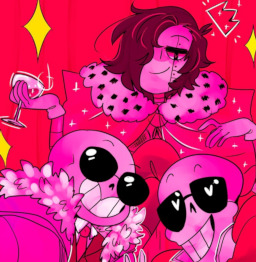 [Rated T for foul language and small amount of violence!]
[Crossovers with Undertale and MLP]
[Warning!!! Displaced story!]
Equestria's local draconequus, Discord, is not pleased with his standing in the land of ponies. He doesn't want to be tolerated or feared, he wants to be praised and admired! And yet all he seems to be is that annoying neighbor that others seem to barely deal with.
With his betrayal in joining Tirek and being useless in Starlight Glimmer's recent time shattering attack, Discord has found his happiness saved twice by Princess Twilight. While she and her friends will be remembered for centuries as the ponies who stood up to countless challenges and saved the world itself more than once, all that will be remembered of the draconequus was his short tyrannical reign.
That is not something Discord wants, and he's desperate to find a way to gain the admiration and fame that his seven friends have achieved through their countless selfless acts of duty. So, how does a draconequus like Discord go about winning the hearts of Equestria?
By creating a fake quest with false dangers, villains, and world threatening circumstances of course! In order to be the hero of the story, he needs to create one first, and there's an entire multiverse full of resources he can use in his quest.
Now he just needs to find the right 'partner in crime' to help him start his 'quest'...
---
---
A big thanks to SnapDrakeGames for looking over the first two chapters and editing it!
Also to DJSkywalker who gave some great ideas for this story!
New and improved Displaced story set for one comedic adventure. I appreciate criticism and suggestions, and thank you for giving this story a chance and reading it!
Chapters (3)