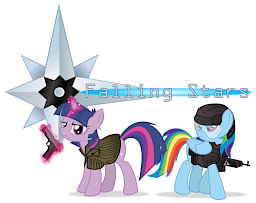 Source
It is the year 3070, and Mankind is once again at war. The battlefields of the future are dominated by fierce, robotic war machines known as BattleMechs, and under their auspice empires have risen and fell. Now with the worlds of the Inner Sphere once again facing the drums of war, two mercenary units have set off on their respective missions, their only tie a common ride upon the back of a JumpShip.
Yet when a cosmic accident causes a misjump, they find themselves thrown into a world that they cannot fathom: a world where magic is a force of nature, where mythical creatures live and thrive, and colorful ponies live protected under the aegis of their monarchs. New choices lie ahead, decisions must be made, and the inner character of Humankind will be put to the test when the question is asked: to conquer, or protect?
--------
It is the year 1023 after the ascension of Celestia and Luna to the dual thrones of Equestria, and Ponykind is at peace. With Luna cleansed and Discord sealed away even more thoroughly than before, all looks bright for the future of the colorful equines. With friendship and optimism, they face each day with hope and vigor.
Yet, when the heavens scream as a foreign object tears its way into their reality, the princesses and their subjects face a new threat that they cannot fathom: creatures and machines from a world of death and darkness, where magic is unheard of and the avarice of powerful men drive the engines of war to crush the innocent under their bootheels. Can they survive the coming of these coarse beings, and can they maintain the magic of friendship in the face of Man's Inhumanity?
With Russian Translation provided by Undermind.
A crossover with the Battletech universe, though this is an alternate BT timeline of my own devising. [WARNING: Fandom related material and fanboy rant to follow. Non-Battletech fans won't care, read at your own risk.]
Because **** the Word of Blake and their munch-tastic "armies from thin air" BS. Yes, I know the Clans were almost as bad, but at least they had some sort of justification in-universe. Wobbies? No. Just no. I don't care that it was 15 years, you don't go from "fringe group of mutually-antagonistic and argumentative sub-groups following various degrees of religious mania" to "WE ARE THE SPACE NAZIS ALL WILL BOW BEFORE US" like that.
So for BT fans, this is a 'verse where the Second Star League is still around, the Wobbies still had their temper tantrum though it was smaller and more in line with a bunch of religious fanatics. No stupid "knock everything down for ClickyTech" Wizkids/Fanpro approach, nor any "hey let's shove a bunch of cheesy Level 3 stuff at the players to make the game even more complicated" Catalyst Games stuff. This is just good ol' fashioned 'Mechs wailing on each other, only with ponies. Who will also be wailing on 'Mechs. GLORIOUS.
Cover image by Icaron of DeviantArt.
Chapters (20)