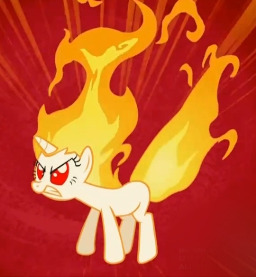 A strange creature from beyond the Sun and Moon has arrived in Equestria, much to the consternation of Twilight Sparkle and company. His coming will set off a clash that shall see the wills and strength of two combatants pitted against one another to determine the fate of an entire afternoon.
Fair bit of warning: This story EARNS the "Random" tag. Your Mileage May Vary. Consult a physician before, after, and potentially during reading. Do not allow contact with broken or bruised skin. Do not ingest. If accidentally ingested, do not induce vomiting; it'll come naturally.
"Sex" tag is for innuendo and discussions of heredity.
First part is the meat of the story. Second part is an author's tract masquerading as a conclusion.
Chapters (2)