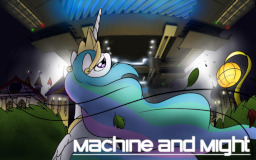 "A massive, artificial behemoth made of metal tore through our skies. It loomed over our world, blotting out Celestia's sun and shrouding Luna's moon, leaving those below in the shadows. It sowed chaos and conflict on our nation, something that had not happened in more than a millennium."
"It sits high above us, watching and waiting. What is this monster, and what is to be the fate of Equestria?"
Season Two starts 10/18/16!
Cover art by Conicer!
Chapters (52)