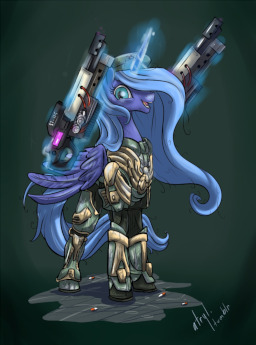 Source
Princess Luna, Mistress of the Moon, co-ruler of Equestria, is utterly bored, and tired of dealing with the bureaucracy. When she happens upon an uncompleted spell that promises access to other worlds, she finds a project that engages her as seldom before. Yet, some worlds are not so pleasant and safe as Equestria, and Luna is about to find out how denizens of one of the more dangerous realms entertain themselves as she is thrust into a bloodsport like no other.
The Tournament awaits.
A crossover with Unreal Tournament, specifically UT2k4, which I've come to regard as my personal favorite of the series.
There is some gore, but nothing worse than your usual FPS game made in the last 10 years or so. Rated Teen for that, and some foul language. (Because it wouldn't be UT without the smacktalk.)
Consider this as the soundtrack. Because that's exactly what it is.for Deck 17. So, freakin' EPIC.
Cover art commissioned from Atryl, who is a demigod of Art. Seriously, he's awesome. Go throw money at him.
Chapters (6)